Welcome to Dancer's Edge!
Established 2003, Celebrating over 20 years of dance education!
A well-established, locally owned dance studio in the heart of downtown Dexter, MI!
Welcome to a whole new dance experience, and Dexter's premiere dance studio!
Registration is available HERE for our Fall 2023 & Winter 2024 Semesters!
Tickets are available for our 2023 Nutcracker & Competition Holiday Showcase HERE!
Our Winter 2023 semester begins January 22, 2023!
Dancer's Edge offers acro, ballet, ballet for babies, contemporary, creative movement, dancing for weddings and special events, hip-hop, jazz, JLT (jumps, leaps, and turns), lyrical, musical theatre, pom, tap, athletic/sports team building workshops, vocal lessons, and much more!
At Dancer's Edge, we believe in developing well-rounded dancers who are motivated, disciplined and learning in a fun environment!
In addition to a National Championship, Choreography and Entertainment Showcase awards, and being named Dance Spirit's Top 100 Studios on the Move; our competition teams have earned the "Studio of Excellence" award at CRU Regionals, and the "Spirit of Encore" award at Encore Regionals on multiple occasions. These awards are given to students with positive character and teamwork skills. While earning top overall awards for their routines, these additional awards are the pinnacle of our success. Being outstanding dancers with positive life skills are the most important lessons we can teach at Dancer's Edge! Dancer's Edge dancers become positive, outstanding dancers who succeed beyond the studio.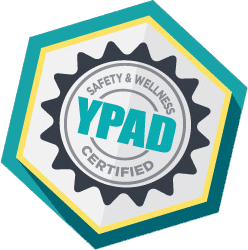 We set the standard for studios in Michigan!
YPAD Safety & Wellness Certified Staff
The Youth Protection Advocates in Dance Certification Includes:
*Background Checked & First Aid/CPR Certified * Injury Prevention & Response * Sexual Abuse Awareness & Prevention * Risk Management in the Dance Environment
*Social Media, Media Safety in Today's Dance Culture * Developmentally Appropriate Artistry * Body Image, Nutrition & Disordered Eating * Bullying & Conflict Resolution
Dancer's Edge stands with anti-racist principles, and does not discriminate on the basis of race, nationality, gender, sexual orientation, age, or ability. We uphold these standards through our hiring practices and through engagement with our students, striving to create an inclusive environment for all. Using our unique platform as a performing arts studio, we endeavor to uphold the highest standards of Diversity, Equity, and Inclusion in order to cultivate confident and knowledgeable students and to create positive change in our community.
Our staff of teachers is composed of professional teachers, university graduates, and dancers that are certified in their fields of dance. They want to help your child develop confidence, learn new skills, and have fun in an exciting environment! We can't wait to dance with you!