Classes & Schedules
Class Descriptions | Dress Code | Tuition & Fees


Dancer's Edge Calendar of Events
Fall 2020/Winter 2021
Summer 2021 Schedule (June 14-August 14)
Private Lessons
Want to learn at your own pace or work one on one with a teacher to improve your technique?
Dancer's Edge Remote Learning Center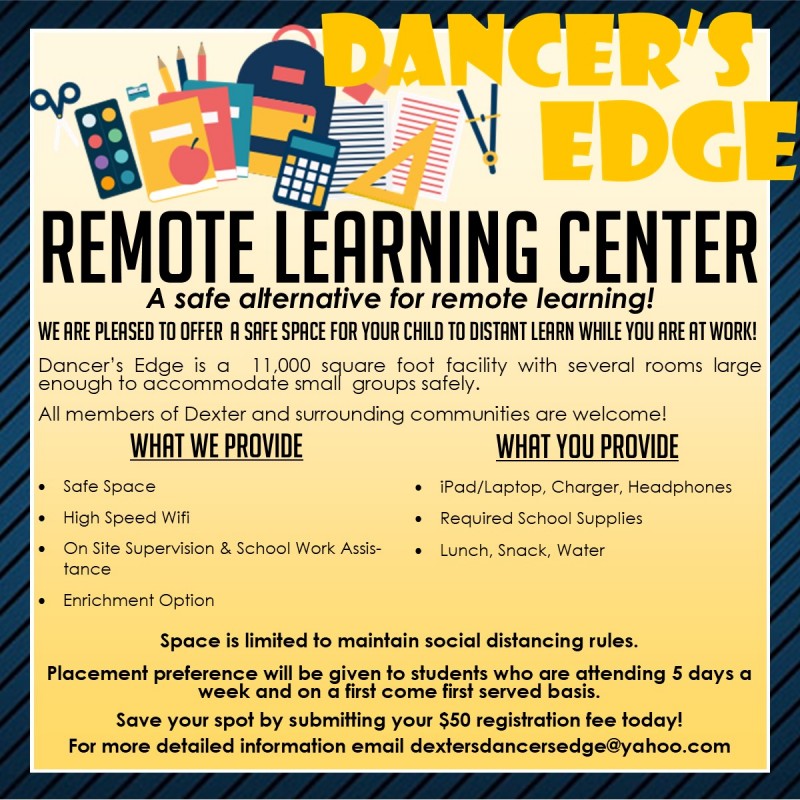 Register Online
Registration Form
New students must bring a filled out registration form with them on the first day of class.
Class Descriptions
Ballet:
Focusing on pure technique, ballet is the foundation of all dance forms. Dancers will move through a series of exercises beginning at the barre then moving to the center and performing combinations including balancing exercises, turns, leaps, and jumps. Ballet develops the dancer's alignment, balance, flexibility, grace, and poise.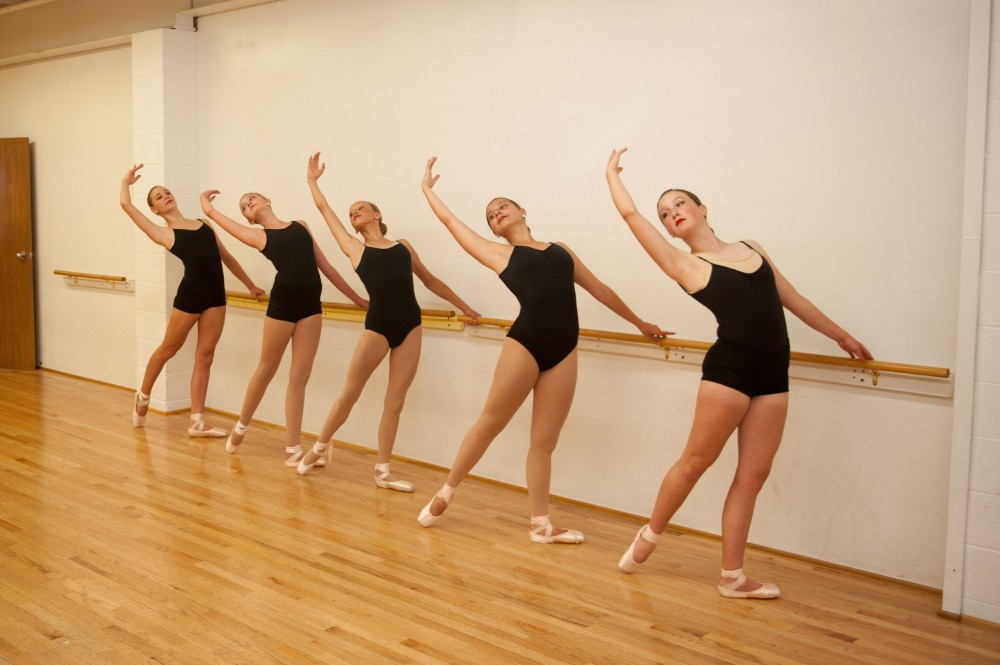 Jazz:
A stylized form of dance taking root from popular music and dance forms with basic ballet technique. Jazz is a broad from of dance that is individualized by each teacher. Students will learn alignment, flexibility, balance, turns, leaps, and jumps usually performed to upbeat popular music.​
Lyrical:
A slower style of jazz pulling more from ballet technique using turned out and parallel positions. Students learn alignment, flexibility, balance, expression, and focus. Lyrical dance is usually performed to complement the lyrics of a song, telling a story through movement.
Tap:
A style of jazz dance that uses metal taps attached to the shoe to make rhythmic sounds. This form of dance uses ballet vocabulary and focuses of rhythm, musicality, and basic jazz principles.
Hip Hop:
A style of jazz dance made popular by street dancers in California and New York. Dancers will learn rhythm, style, and improvisation, not focusing on technique, but allowing each student to find their individual style in relation to the music.
Creative Movement:
Designed for the young dancer, creative movement incorporates props, games music and fun to encourage students to think creatively in addition to learning basic ballet technique. Students will go through a series of stretches, barre work, across the floor steps, and center floor activities. Students must be potty trained in order to participate.
JLT (Jumps, Leaps, Turns):
Floor progressions focusing solely on leaps, pirouettes and skills help your child develop his/her skills.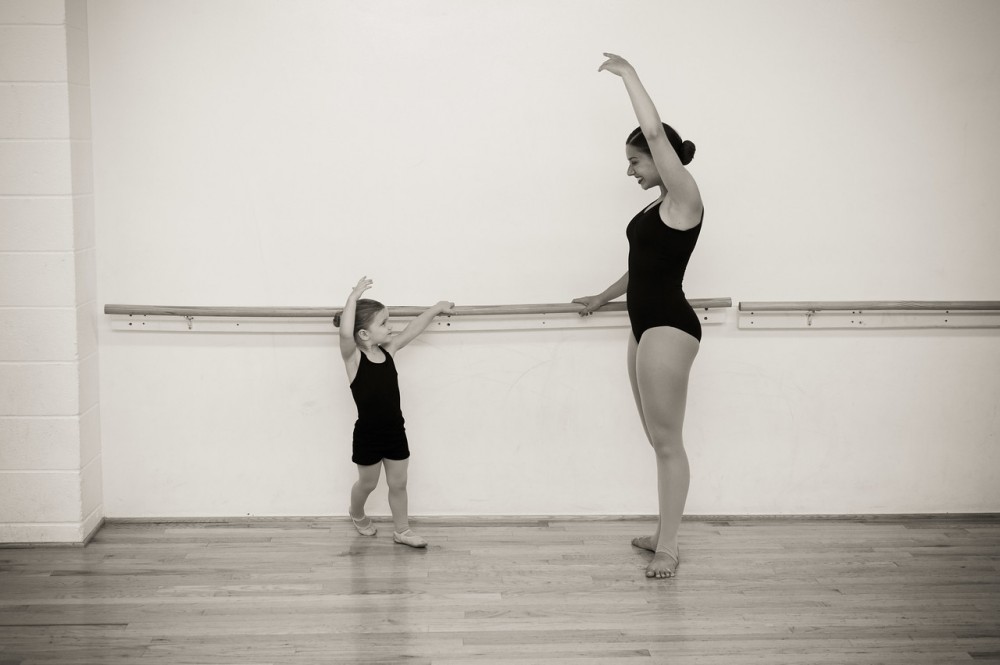 Ballet for Babies:
Your child's first dance class! Filled with music, playful interaction and dance, this class is designed for our youngest dancers! Creative Movement with mom (or dad too!). Get ready to wiggle, jump and move to music, props and fun!
Contemporary:
A form of dance that began as a rebellion to ballet, shedding tight clothing and ballet slippers, modern dance is the purest form of dance as an art. Dancers learn basic ballet principles with an emphasis on style and dance in bare feet. Improvisation is used as a means to let the students explore their own creativity as a dancer. Students dance to a wide range of musical forms, usually without lyrics.
Acro:
Acro is a unique dance style combining tumbling and dance which develops great flexibility and strength to achieve balances, lifts, bends and splits.
Musical Theatre:
A style of jazz that references Broadway choreography. Dancers learn basic jazz principles and help develop acting skills and facial expression through theatre activities.
Pom:
A form of dance team style jazz that focuses on synchronization and strong, sharp movements, especially of the arms. Dancers learn basic and advanced pom drills and combinations to emphasis unity and precision.
Dancing for Weddings:
Do you have a big event coming up? Learn to dance like a pro at any social dance!
Vocal Lessons:
Improve your singing voice and learn proper vocal technique. Prepare for and upcoming performance or audition!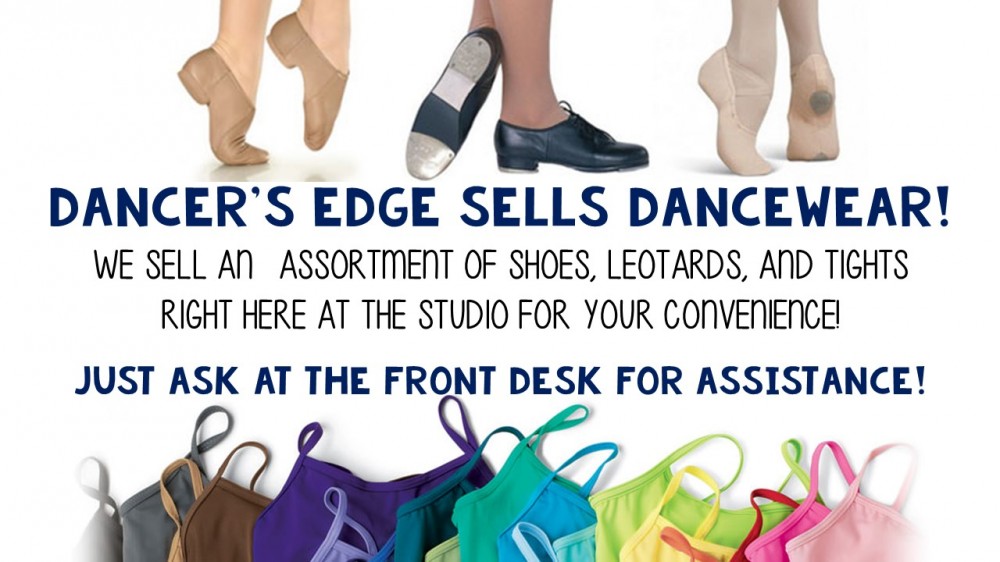 Dress Code

Studio Classes
Ballet for Babies: pink ballet shoes
Creative Movement/Pre-Dance: pink ballet shoes
Ballet: pink ballet shoes
Dance Combo: pink ballet shoes, black tap shoes, black jazz shoes
Pre-Ballet/Tap & Ballet/Tap: pink ballet shoes, black tap shoes
Pre-Jazz/Hip-Hop & Jazz/Hip-Hop: black jazz shoes
Contemporary, Lyrical: pink ballet shoes
Musical Theater: tan jazz shoes
Leotards, tights, and hair pulled back are encouraged but not mandatory for studio classes. Mostly, we want students to be excited and comfortable in what they are wearing. We ask that clothes are not excessively baggy and students wear true ballet shoes and not the slippers that are often sold in department stores. This is for the safety of our dancers. Dancer's Edge has a large bin of used shoes available for all students to borrow when they are here for class.
Competition Classes
Ballet: leotards (of specified color for each level, listed below), pink tights, ballet shoes, no jewelry, no hair accessories.
JLT/Rehearsals: leotards (of specified color for each level, listed below), pink or tan tights, black spandex shorts (optional), jazz shoes, no jewelry, hair accessories allowed.
Leotard Color Requirements:
Minis - Gray

Level 1 - Hot Pink

Level 2 - Turquoise

Level 3 - Yellow

Level 4 - Pink

Level 5 - Purple

Level 6 - Navy

Seniors - Black